Ice Park – Ice rink – CLOSED UNTIL NOVEMBER 2018
Come to enjoy at the Ice Park on our Rink Ice and the first Slide Ice of Mallorca
Our Ice Rink has 420 square meters for coming to enjoy skiing. The winter is better if you skiing on the ice. The Ice Park is the only ice rink in the Balearic Island.
If you want to live the typical Christmas movie and enjoy so much, you do not need to move to New York, you find it in your own city. Come and enjoy with your friends or your family with Oh! Palma Espectáculos.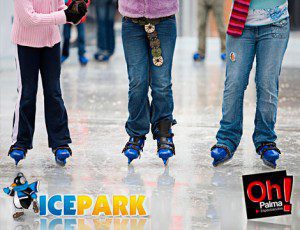 The gloves are compulsory
Special prices for groups (more than 10 pax)
Opened every day from 10:00 to 22:22 (From Monday to Sunday)
Booking and information: icepark@ohpalma.com 971 720059 607231523 607.87.67.72. Come with your friends to enjoy and ask for your our offers and special prices for groups
Notes
Ski on the Ice Park, 420 meters of Ice Rink
Ice skates included
Duration: 2 passes of 25 minutes each
The only Ice Rink in Mallorca
Practice an amusing sport at the same time that you enjoy so much with your friends or your family