The Menorcan horse and its taming
The admiration for the Menorcan horse and its taming is present in the Balearic society. The enhancement of the breed and institutional efforts as well as breeders and owners have contributed to the national and international impact of the Menorcan horse.
Oh Palma Espectáculos offers an exclusive exhibition of Menorcan dressage that exceeds the highest expectations of its spectators. The show, made by experienced riders and Menorcan pure breed horses with their traditional mount, is made up of a series of Menorcan dressage exercises:
Carousels: pace, trot, gallop and "bots menorquins", made with up to 14 horses.
Spanish pace, piaffe and passage.
Kür de Doma Menorquina: free reprise, with all the movements of a competition, including the "bot menorquí".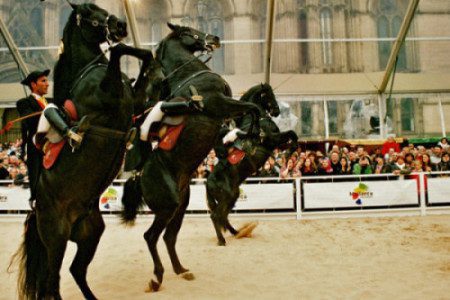 In the same way, exercises are carried out with long reins and handmades, which are carried out on foot with one or two horses. The show can be performed with the horses costumed as a party with the typical ornaments of the festivities of Menorca and the riders wearing the typical dress of the celebrations. Furthermore, the show can be complemented with the art of falconry with the addition of a Harris eagle working with horses and riders.
This activity is aimed both at town halls to be held at fairs or within the framework of municipal festivities, as well as towards individuals and companies for their development at private parties and incentive events.